Shopping Cart
Your Cart is Empty
There was an error with PayPal
Click here to try again
Thank you for your business!
You should be receiving an order confirmation from Paypal shortly.
Exit Shopping Cart
| | |
| --- | --- |
| Posted by food hugs on November 20, 2019 at 6:25 AM | |
Sauerkraut is one of the easiest and most nutritious foods you can make at home.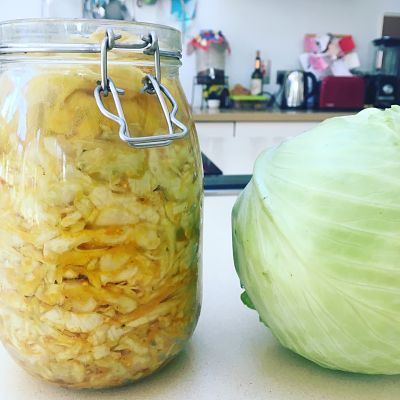 Some of the benefits of sauerkraut include:
It contains cabbage which is high in Vitamin C, Vitamin K and fibre, and also contains polyphenols, antioxidants and sulphur compounds, such as sulforaphane and I3C that may help to support hormone metabolism (1, 2).
It is a naturally fermented food, rich in lactic acid producing probiotics, particularly Lactobacillus and Leuconostoc species (3, 4). Not only do these probiotics produce short chain fatty acids and vitamins (vitamins B, K and C), they also help to maintain a healthy intestinal flora, re-inforce the intestinal barrier against foreign invaders, produce anti-inflammatory substances and stimulate the immune system in the gut. A single cup of sauerkraut can contain 10 million probiotics (5)
Adding spices, such as ginger, garlic and tumeric not only add prebiotics to feed your growing population of probiotics (5), but also have health benefits in themselves, such as boosting the immune system (6)
All you need to produce sauerkraut is a one litre 'kilner' type jar (available from Ikea, or Woodies), a weight, cabbage, salt and whatever spices you like. Pulling a sauerkraut together is very easy. Once it's ready, all you need to do is leave it be on the countertop to work it's magic.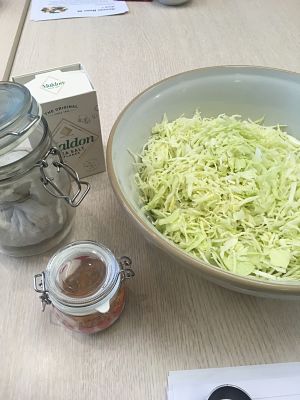 The recipe below is for a Moroccan Kraut, taken from the wonderful book, The Cultured Club, by Dearbhla Reynolds. It is so tasty with eggs, chicken or cheese and will enliven any salad, literally.
Ingredients
1 small green cabbage, shredded (by hand, or sliced finely in a food processor. Keep one cleaned outer leaf to tuck the cabbage in, see below)
2 carrots, grated
2 tbsp sea salt

2 tbsp lemon juice
1 tsp ground ginger
1 tsp ground cinnamon
1 tsp ground tumeric
1 tsp ground cumin
(you also need a one litre kilner jar and a glass/stone weight)
Method
Add your shredded cabbage and carrot to a large bowl. Sprinkle over the salt and massage into the cabbage for about 1 minute. Cover the bowl and leave for one hour.
After this time, the cabbage should have wilted a little bit and the mixture should be quite wet.
Add in all the other ingredients and mix.
Take your kilner jar and start to pack it with the mixture. Take a handful of cabbage at a time and press down very hard using your fist. The aim is to draw liquid over the level of the cabbage.
Keep filling the jar until you are 2.5cm from the top. When you press down, liquid should cover all of the cabbage. 
For a successful fermentation, the cabbage needs to be submerged in the liquid. So, first, use an outer cabbage leaf (cleaned) to tuck in the cabbage and second, place a weight on top of this, such as a glass tealight holder, or a large sterilised stone!
Close the lid and leave the sauerkraut to ferment for one to six weeks. Every 2 to 3 days open the jar to 'burp' it, i.e. allow gas to escape. After one week, you can start to taste it. You can eat it after one week, or leave it for up to six weeks for the flavour, and probiotic concentration, to develop. 
When you're happy with the flavour and texture, remove the outer cabbage leaf and weight and store it in the fridge. 
 




1. Rokayya S, Li C, Zhao Y, Li Y, Sun C. Cabbage (Brassica oleracea L. var. capitata) Phytochemicals with Antioxidant and Anti-inflammatory Potential. Asian Pacific Journal of Cancer Prevention [Internet]. 2013 [cited 20 November 2019];14(11):6657-6662. Available from: http://journal.waocp.org/article_28350_52583657b77af22c1a222d7c5934562a.pdf

2. HIGDON J, DELAGE B, WILLIAMS D, DASHWOOD R. Cruciferous vegetables and human cancer risk: epidemiologic evidence and mechanistic basis. Pharmacological Research [Internet]. 2007 [cited 20 November 2019];55(3):224-236. Available from: www.ncbi.nlm.nih.gov/pubmed/17317210

3. Touret T, Oliveira M, Semedo-Lemsaddek T. Putative probiotic lactic acid bacteria isolated from sauerkraut fermentations. PLOS ONE [Internet]. 2018 [cited 20 November 2019];13(9):e0203501. Available from: www.ncbi.nlm.nih.gov/pubmed/30192827

4. Masood M, Qadir M, Shirazi J, Khan I. Beneficial effects of lactic acid bacteria on human beings. Critical Reviews in Microbiology [Internet]. 2010 [cited 20 November 2019];37(1):91-98. Available from: www.researchgate.net/publication/49687659_Beneficial_effects_of_lactic_acid_bacteria_on_human_beings

5. Anderson S. The psychobiotic revolution. Washington DC: National Geographic Partners, LLC; 2017.

6. Kahkhaie K, Mirhosseini A, Aliabadi A, Mohammadi A, Mousavi M, Haftcheshmeh S et al. Curcumin: a modulator of inflammatory signaling pathways in the immune system. Inflammopharmacology [Internet]. 2019 [cited 20 November 2019];27(5):885-900. Available from: www.ncbi.nlm.nih.gov/pubmed/31140036


Categories: Fermentation, Healthy Hormones, Healthy Eating Recipes

0

/